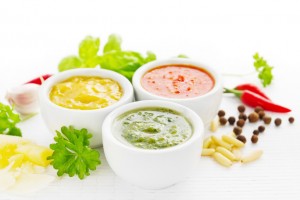 When we think of Italian sauces, there are a few that immediately come to mind: marinara, pesto, and alfredo. However, Italy's culinary culture is so rich that there are many more options than you may have realized. Here's a list of some of our favorite Italian sauces here at Basta Pasta:
Creamy garlic sauce: In the United States, we tend to overpower our meals and palate with garlic. In Italy, garlic tends to be cooked more thoroughly, so the enzymes are neutralized. This results in a creamy garlic sauce that has a sweet taste and velvety texture.
Pesto sauce: The word pesto is derived from the Italian verb pestare, which means 'to mash." While each region in Italy uses a different ingredient ranging from almond to pine nuts, we often recognize pesto for its distinct green color.
Olive and caper sauce: Cooking with vegetables is a must in Italy, and using what ingredients you have on hand is often a good rule of thumb. Fresh ingredients are key to making a delicious sauce. However, when cooking sauces, you must taste as you go. Vegetables vary in terms of flavor and how long they take to cook down, so you may need different amounts of salt each time you make a new sauce.
Olive oil: Olive oil is a classic ingredient in many Italian dishes and sauces, but sometimes, using it as a sauce can make a world of difference in flavor and taste. To use olive oil as a sauce, it is essential to have an olive oil of excellent quality as it can temper the taste of your dish. Olive oil sauces are best paired with seafood and are popular in the Mediterranean region where olive trees grow in abundance. For best results, infuse the oil with garlic and herbs prior to cooking with it.
Vegetables: When vegetables are in their peak season, they are often bursting with flavor. Breaking them down with heat or a blender allows vegetables to create their own sauce as they become tender and release liquids. You can also use a strainer to thicken a vegetable sauce that can be mixed with herbs and meat for a delicious meal.
Italian chefs have brought over a variety of sauces that have made their way to the American palate. Fortunately, many of these are easy to whip up and can take a meal from good to great.
Visit Basta Pasta to try some of these sauces firsthand – we offer two locations and online reservations! Need to get in touch with one of our locations? Here is some contact information for both:
Timonium Location- 60 W Timonium Road, 410-308-0838
Fallston Location- 2745 Fallston Road, 410-692-5200
How often do you "Like" and "Follow?"  Be sure to find Basta Pasta on Google+, Pinterest, Facebook, Twitter, and LinkedIn today!