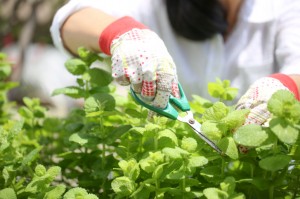 When it comes to Italian cuisine, there are different flavor profiles and ingredients that come to mind. One of the best ways to determine an Italian dish is through the herbs used throughout the dish. While herbs are used throughout many cultures for their cuisine, there are certain herbs that can be found most often throughout Italian cooking.
Oregano- Italian cooking tends to pair this herb with tomatoes. Whether you are working to create a marinara or a pasta sauce, oregano is typically one of the main ingredients sprinkled into the red dish.
Parsley- While there is another herb that is most frequently associated with Italian dishes; parsley is probably the herb that is used most often. Parsley can be used as a main ingredient within a dish, or it can be used as a finishing garnish once the dish is complete.
Basil- Basil is the most commonly associated herb with Italian cooking. It is most often found within sauces and pesto, as well as being sprinkled on as a finishing touch for several pasta dishes.
Rosemary- This herb brings a fresh pine aroma and strong flavor profile to Italian cooking. It resembles a needle and tends to be used in limited amounts to avoid overpowering the dish.
Mint- This herb can bring freshness to a dish as well as a spice, depending on the type of mint you choose to use. Mint is also often used a basil substitute.
Enjoying your Herbs at Basta Pasta
In 2004, Basta Pasta opened its doors to the public, and ever since has maintained the image and experience of casual Italian dining. In addition to fresh, delicious ingredients and recipes, the restaurant strives to uphold expert, attentive, and cordial service for its customers. Enjoy a taste of Italy with hearty pasta dishes, endless salad and breadsticks, and fine wines right here in your hometown. For more information, visit our website.
Want to learn more about our wine selection? Need to get in touch with one of our locations? Here is some basic contact information for both:
Timonium Location- 60 W Timonium Road

Fallston Location- 2745 Fallston Road
How often do you "Like" and "Follow?"  Be sure to find Basta Pasta on Google+, Pinterest, Facebook, Twitter, and LinkedIn today!