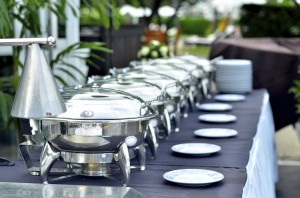 Guest lists, invitations, decorations, cleaning, music, shopping, setting up…Planning a party is enough work, so why not have a little help? Let someone else do the cooking for your party. That way, you can guarantee that you will have enough food, it will be delicious, and it will be ready on time. Basta Pasta offers only the best in Italian cuisine, and is available for catering! Treat your guests to amazing Italian food, and let Basta Pasta do all the cooking for you.
Basta Pasta offers a wide variety of popular Italian cuisine from seafood, to chicken, to pasta dishes and salad. For starters, choose from a list including items such as calamari, fried ravioli, mini crab cakes, wings, and mozzarella sticks. These trays can be ordered either as smalls, which feed 10, or larges, which feed 20. We also offer 4 different types of salad, 9 different types of sandwiches, and 22 pasta dishes! A small tray of pasta serves about 8-10, while a large tray serves about 18-20. With so many options to choose from, you'll definitely be able to choose items that everyone will enjoy. To see a complete list of our items that are available for catering, visit our website by clicking here.
If you're not sure which options to choose, how much food to order, or are looking for something specific, don't hesitate to ask! With locations in Fallston (2745 Fallston Road) and Timonium (60 W Timonium Road), you can stop by at anytime, or give us a call at one of the two locations. For Timonium, call 410-308-0838 and for Fallston, call 410-692-5200. Choose Italian cuisine catering from Basta Pasta for your party; you won't regret it!
About Basta Pasta.
In 2004, Basta Pasta opened its doors to the public, and ever since has maintained the image and experience of casual Italian dining. In addition to fresh, delicious ingredients and recipes, the restaurant strives to uphold expert, attentive, and cordial service for its customers. Enjoy a taste of Italy with hearty pasta dishes, endless salad and breadsticks, and fine wines right here in your hometown. For more information, visit our website.