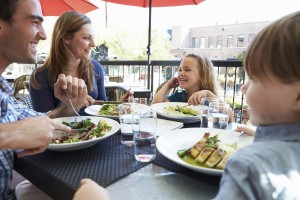 At Basta Pasta, we enjoy helping our community by giving back whenever we have the opportunity. One of the main ways we give back to our community is through a restaurant night fundraiser. On these nights, Basta Pasta will donate a percentage of the checks to the hosting the fundraiser. Hosting a restaurant night fundraiser is a great way for local groups and organizations to raise a steady amount of money to put towards their goal. So how do you host a restaurant night fundraiser?
Get in touch with the manager of either of our two locations. Decide on a date to hold the fundraiser and between which times. A commonly used time frame is 4pm-8pm or anywhere in between.
Determine if a flyer or coupon will be needed for the fundraiser. Some restaurants use coupons to keep track of how many customers are present for the fundraiser.
Advertise! Use flyers and signs to get the word out about your restaurant night fundraiser. You can also reach out to friends and family members that would be interested in attending to help your group or organization.
Have displays or demonstrations to show why you are holding the restaurant night fundraiser.
Some groups may forget about the restaurant night fundraiser option, but they should realize how beneficial this option is for all parties involved. A restaurant night fundraiser helps promote not only your group, but the restaurant itself. Our dining room will stay filled as we introduce our staff and delicious food to guests who may not have normally paid a visit to our location. Some groups that enjoy hosting a restaurant fundraiser night include:
School PTAs
After School Groups
School Sports Teams
Church Groups
Youth Groups
Recreational Sports Teams
Senior Centers
Interested in hosting a restaurant fundraiser night? Need to get in touch with one of our locations? Here is some basic contact information for both:
Timonium Location- 60 W Timonium Road
Fallston Location- 2745 Fallston Road
How often do you "Like" and "Follow?"  Be sure to find Basta Pasta on Google+, Pinterest, Facebook, Twitter, and LinkedIn today!
Source:
http://www.fundraising-newsletters.com/fundraising-with-restaurant-nights.html