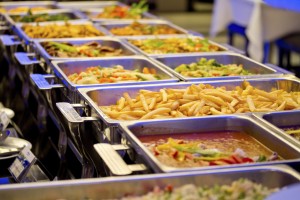 Fallston residents hold parties for a number of different special occasions. Between birthdays, retirements, promotions, anniversaries, and anything in between, a party is always the perfect way to celebrate with family and friends. However, planning and hosting a party can be a lot of work and extremely stressful a times. There is a guest list to create, a theme to choose, and the food to serve for your guests. Take some of the stress out of party planning with catering from Basta Pasta.
At Basta Pasta, we offer an extensive catering menu to feed even the pickiest of eaters. Our customers can choose from a selection of sandwiches, pastas, and first courses to make your party a major hit. Our trays come in small and large sizes, with small trays feeding up to 10 and large trays feeding up to 20. When you have catering services provided for you, hosts are then able to focus on the smaller details of the party rather than the menu. Catering services will also help save time with food preparation and serving.
Our pasta options include:
Penne
Lasagna
Stuffed Shells
Chicken Marsala
Shrimp Scampi
Our sandwich options include:
Bresaola
Crab Cake Sandwich
Caprese
Turkey Pesto
Some of our first course items include:
Buffalo Wings
Calamari
Chicken Tenders
Mozzarella Sticks
Coconut Shrimp
In 2004, Basta Pasta opened its doors to the public, and ever since has maintained the image and experience of casual Italian dining. In addition to fresh, delicious ingredients and recipes, the restaurant strives to uphold expert, attentive, and cordial service for its customers. Enjoy a taste of Italy with hearty pasta dishes, endless salad and breadsticks, and fine wines right here in your hometown. For more information, visit our website.
Want to learn more about our wine selection? Interested in our menu? Need to get in touch with one of our locations? Here is some basic contact information for both:
Timonium Location- 60 W Timonium Road

Fallston Location- 2745 Fallston Road
How often do you "Like" and "Follow?"  Be sure to find Basta Pasta on Google+, Pinterest, Facebook, Twitter, and LinkedIn today!