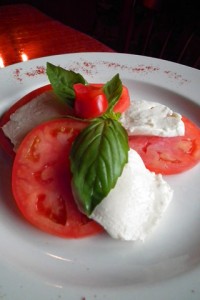 When it comes to Italian food, many of the most famous dishes that spring to mind are not necessarily the best picks for someone who has cut meat out of their diet. Veal parmigiana? Lobster ravioli? Chicken Cardinale? All of these feature meat as the main part of the meal, and as delicious as they are, they are less appealing options to vegetarians. But just because you have given up meat does not mean that you have to give up on a wide variety of delicious Italian food! Read on to find out more about some of our signature dishes that come to you fresh, delicious, and vegetarian-friendly.
Stay on Your Vegetarian Diet with Italian Food
Pasta is one of the most classic Italian dishes, in all its forms. And, lucky for you, many of those forms are meat-free! Our Garden Vegetable Penne, for one, features a combination of tomatoes, carrots, zucchini, peppers, and baby spinach in a white wine sauce and tossed with perfectly al dente penne. A dish like this is not only delicious, but healthy as well- think of all of the vitamins those veggies pack! If you are looking for an Italian staple, try our Fettuccini Alfredo: egg noodles in a creamy, savory sauce. A dish with a definite Mediterranean kick sound more to your liking? Opt for the Vegetali: it combines penne with capers, broccoli crowns, sundried tomatoes, green olives, and artichokes for that salty snap we know you're craving!
The home-cooked comfort of a baked pasta dish might be what you're really craving tonight, and there we've got you covered. From the classic Eggplant Parmigiana to our decadent Four Cheese Baked Penne, there's really no way you can go wrong!
If you're looking to stray away from pasta, our salad selection is another perfect vegetarian option. Go with the staple Caesar salad or try a fruity twist with our Strawberry Balsamico. Or, take your veggies and pile them on our amazing pan-baked pizza: pick the toppings you like best!
Interested in learning more about our vegetarian-friendly dishes? Need to get in touch with one of our locations? Here is some basic contact information for both:
Timonium Location- 60 W Timonium Road
Fallston Location- 2745 Fallston Road
How often do you "Like" and "Follow?"  Be sure to find Basta Pasta on Google+, Pinterest, Facebook, Twitter, and LinkedIn today!