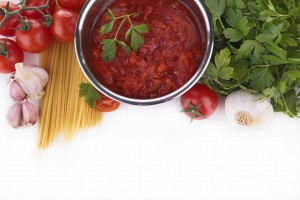 Pasta is one of the more popular dishes within Italian cuisine. When pasta is made for a dinner, it is normally paired with a sauce. A plain pasta dish tends to be on the bland side, which makes for an unappetizing dish. However, pairing your pasta with a sauce can be difficult. Some sauces tend to pair well with certain types of pasta while others are less ideal. If you are unsure about which sauce to pair with your pasta, check out these pairings.
Pair a spaghetti, vermicelli, or linguine dish with a light sauce. This sauce could be a lighter seafood sauce with a base of either oil or cream. This will allow the sauce to cover the pasta without overpowering the pasta itself.
If you are serving pasta shells, like lumache, choose a heavy sauce. Larger shells can even be stuffed, which makes for a hearty entrée. This sauce can be either a meat sauce or a heavier cream sauce.
Tube pasta like a macaroni or penne should be served with a ragu or heavy vegetable sauce. This type of pasta is always great with baked cheese.
Small pasta like orzo is best served within a stew or soup. Because of the size, a soup broth will be easily absorbed and the pasta will be in every bite.
In 2004, Basta Pasta opened its doors to the public, and ever since has maintained the image and experience of casual Italian dining. In addition to fresh, delicious ingredients and recipes, the restaurant strives to uphold expert, attentive, and cordial service for its customers. Enjoy a taste of Italy with hearty pasta dishes, endless salad and breadsticks, and fine wines right here in your hometown. For more information, visit our website.
Want to learn more about our wine selection? Interested in our menu? Need to get in touch with one of our locations? Here is some basic contact information for both:
Timonium Location- 60 W Timonium Road

Fallston Location- 2745 Fallston Road
How often do you "Like" and "Follow?"  Be sure to find Basta Pasta on Google+, Pinterest, Facebook, Twitter, and LinkedIn today!