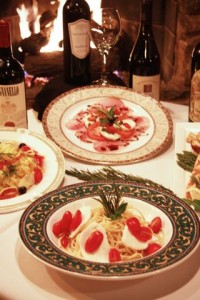 A wedding is a joyous celebration that helps to bring family and friends together to celebrate the union of two people. However, a wedding can come with several stressful components that need to be scheduled and planned. Not only will the couple need to plan their actual wedding, but they will need to plan a rehearsal and rehearsal dinner as well.
A rehearsal dinner is typically enjoyed after the initial rehearsal for the big day and is held the day prior to the wedding. A rehearsal allows everyone to practice the ceremony and reception to have a smooth day-of. The officiants, DJ, caterer, photographer, and bridal party will come together to make sure the schedule is understood and everyone understands where they need to be. The processional and recessional are practiced for timing and the DJ can finalize the song list to be used.
After a long day of preparation, the rehearsal dinner allows everyone to relax and enjoy a meal before the hectic wedding day arrives. The dinner also provides a platform for the bridal party to interact as well as introduce the two families. Family members arriving from out of town can be invited to the dinner to allow them to see the couple as well as the other family members. Basta Pasta provides the space and menu needed to hold a successful rehearsal dinner for your special day. Our servers will ensure a smooth dinner while you can sit back and relax as you look forward to your wedding day. Call one of our two locations today to plan your rehearsal dinner.
In 2004, Basta Pasta opened its doors to the public, and ever since has maintained the image and experience of casual Italian dining. In addition to fresh, delicious ingredients and recipes, the restaurant strives to uphold expert, attentive, and cordial service for its customers. Enjoy a taste of Italy with hearty pasta dishes, endless salad and breadsticks, and fine wines right here in your hometown. For more information, visit our website.
Want to learn more about our wine selection? Need to get in touch with one of our locations? Here is some basic contact information for both:
Timonium Location- 60 W Timonium Road

Fallston Location- 2745 Fallston Road
How often do you "Like" and "Follow?"  Be sure to find Basta Pasta on Google+, Pinterest, Facebook, Twitter, and LinkedIn today!